Southside Johnny and the Asbury Jukes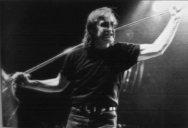 "The World's Greatest Bar Band"
The Band
Probably over 100 different artists can claim to have been part of The Jukes at one time or another. Artists like Bruce Springsteen, Max Weinberg, Little Steven, former miami horn Richard (La Bamba) Rosenberg and Jon Bon Jovi have been known to show up to play with the band.

The heart of the Jukes has always been the vocals of "Southside" Johnny Lyon who also plays harmonica on many songs. Lead guitar was originally played by Billy Rush back in the days when "Miami" Steve Van Zant wrote and produced for the band. Billy also shared vocals with Southside on some tracks. Lead Guitar is now played by Bobby Bandiera who also gets a chance to sing some of his own songs with the jukes during most shows. The Miami Horns play with the band at most shows with the exception of the recent "Unplugged" tour.

Southside continues to tour almost constantly, playing 'bars' up and down the eastern U.S. and occasionally does tours in Europe or throughout the U.S. For a list of upcoming dates and the band's line-up of personel, check out the Official Southside Johnny Calendar section.
---
News Flash! Make you sure you surf on over to the official website to read all about the new studio album, "Going To Jukesville"
---
Attention! The new "Official" Southside Johnny Website has opened! http://www.southsidejohnny.com
---
---
Join the Southside Johnny mailing list by mailing a blank e-mail message to: southside-subscribe@topica.com. The mailing list is maintained by Debbie May (dmay@ici.net). To send a message to the list e-mail it to: southside@topica.com.
---
| | |
| --- | --- |
| The web's first Southside Johnny and the Asbury Jukes fan page is maintained by Allan Wright. Please feel free to e-mail me at aew@unh.edu if have anything you want to add, ask or talk about concerning Southside and the Jukes! Note! This is a 'Fan' site. I personally have no official connection with the band other than this website. | |
---