Tricon '96
General Information

Welcome to Tricon!

The 18th century is fertile soil for the miniature gamer, re-enactor and military enthusiast. It ushered out the last significant use of pikes in the Great Northern War, and introduced Napoleon and national armies during the waning days of the century. In between, the military fraternity experienced a dizzying panoply of uniforms, and theaters spreading from Central Europe to North America and India, all bound together by the ubiquitous three-cornered hat. This is the era Tricon celebrates.
We have billed Tricon as a different kind of convention, and we have worked hard to deliver on that promise. Its two days will encompass not only miniature tabletop games, but also lectures by noted authorities and a private battlefield tour tailored specifically for the knowledgeable military history enthusiast. We hope you will find it a memorable experience. And we hope you will share your impressions and suggestions with us. The future of Tricon will depend on your participation and your interest.
- Byron Champlin

Tricon Staff
Convention Director: Byron Champlin (603) 228-0097
Scheduler: Ralph Gero
Registrar: Allan (A.J.) Wright
Promotion Manager: Phil Hammond
Floor General: Mike Coppinger
Venue Coordinator: Greg Symko
Convention Committee: John Costea, Tom DiGiuseppe, Leo Murphy, Mark Nichipor, Bob Olson, George Zanni

Sponsors
The Seven Years War Association, North Road Diagnostics and Wee Bee Publishing

Prizes Donors
Daton Painting Consortium, Guernsey Foundry,
Stone Mountain Miniatures and Tactical Conflict Systems
Convention Etiquette

A. NO SMOKING: There will be no smoking allowed in any of the convention areas.
B. 18th century uniforms will be allowed at Tricon but prior permission by the convention director is required for any period weapons. Contact Byron Champlin at the above phone number for permission. Non-18th century uniforms will not be allowed except for active duty military personnel.
C. While all event areas are wheelchair accessible, the building does not have handicapped accessible bathrooms.
Tricon Overview

Tricon will consist of the following events:

Lectures: Individual lecture descriptions listed in the events listing.
Games: Individual game descriptions listed in the events listing.
Video room: The video room will have several videos on 18th century subjects. These will be playing continuously.
Minuteman National Park Battlefield Tour: See details below
Vendors: Clash of Arms Games, Dayton Painting Consortium, John Durant - Bookseller, Tactical Conflict Systems

Due to space limitations Tricon will not have a flea market area or painting competition.

Battlefield Tour: Lexington and Concord

This private tour with park historian Mark Nichipor will visit the sites associated with the April 19, 1775 battle in the Lexington/Concord area. We will start at the North Bridge and pick up the events of the day as they unfolded starting at 9 a.m. in 1775. From the bridge, we will trace the line of battle as the British fell back to Boston, visiting sites at Merriam's Corner, Bloody Angle, Hartwell Tavern and the Nelson Road/Bluff area. The tour will end at Lexington Green. Stops will include descriptions of the site's 18th century appearance, first-person accounts of the fight and, at Hartwell Tavern, firing demonstrations by members of Captain Dowe's company of Prescott's battalion.
Tour participants will travel by private vehicles (car pooling recommended) and will depart the North Bridge at 9 a.m. Sunday, November 3. Maps and directions will be provided. A $2 per person park donation is required to confirm your place on the tour. The battlefield tour will only be available for Tricon attendees and their family members.

Lodging Information

Howard Johnson Motor Inn: (508) 369-6100 about 1.5 miles from the Masonic Temple, Single Occ.: $70 Double Occ.: $83

Concordian Motel (508) 263-7765 about 3.5 miles from the Masonic Temple, Single Occ. $49-59 Double Occ. $54-64

Driving Directions

From I-495: Take the Route 2 exit off of 495 heading east. Follow Route 2 approximately nine miles to the traffic circle by the Concord Prison. Go through the traffic circle staying on Route 2. Go through one traffic light. At the second light after the traffic circle take a left onto Route 62. Follow Route 62 through Concord center to the traffic circle. The Masonic Temple is located on the traffic circle; you'll have to drive almost all the way around the circle to enter the driveway.

From Route 128: Take the Route 2 exit heading west. Follow Route 2 through one traffic light. At the second traffic light Route 2 bears left. Do not stay on Route 2, stay in the far right lane going straight through the intersection. Follow this road until you get to a stop sign. Take a left onto Lexington Road. Follow Lexington Road until you reach the traffic circle in Concord center. The Masonic Temple is located on the traffic circle next to the church.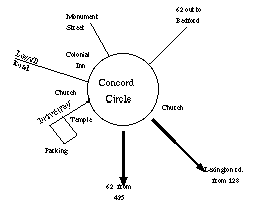 Registration Information

Fees:
| | |
| --- | --- |
| Saturday Events: | $10 |
| Saturday & Battlefield Tour: | $12 |
| Additional Tour Attendees: | $2 |

(Please make checks payable to ìTriconî and mail with registration form to: Tricon, P.O. Box 446, Durham, NH 03824)

Pre-registration: Due to the high interest in Tricon, pre-registration is recommended. You will be allowed to pre-register for as many non-concurrent events as you wish, assigning a priority to each (first choice, second choice, etc.). The staff of Tricon will fill events on a first-come first-served basis.You may register at the door the day of the convention commencing at 7:00 a.m. All pre-registration forms must be received by October 26th.

Procedure: Print out the pre-registration form. Please fill out your name, address, phone number and event selections. If you have any friends that wish to register for Tricon you may use copies of this form. You will be allowed to pre-register for as many events as you wish as long as none of them are concurrent. Select them by placing a number in the box provided indicating whether it is your 1st, 2nd, 3rd, etc. choice. You may only use one of each number (1,2,3,4,5,6,7). Be sure not to choose overlapping events; remember you canít be in two places at the same time.