Al's 'The Bug'
April 24, 2002
I liked the bug so much that I got 'hooked' on HLG flying, so I designed my own HLG which I'm flying now. Sold the Bug to a happy club member along with the 1-Meter extended wing I built for it.
April 5, 2002
I bought this HLG, called 'The Bug' already built from a guy on E-zone. Equipment is GWS R-4P receiver, 2xHS-50 servos and 1 Lithium-Ion battery. All up weight is 111g (3.9 oz). The CF wing spars go all the way to the wingtips to allow for discus style launches.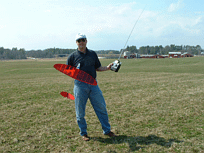 In-flight Movies
This was a horrificly strong wind day - 12+ MPH gusting wind.
---

Return to Al's Electric RC Page
---