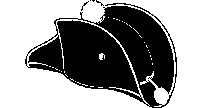 Tricon
An 18th Century Military History
and Wargames Convention

---
Tricon '98 is over and attendence was very good. We had more attendees, lectures and vendors than ever. There are after-action photos and reports available below.

The staff of Tricon '96, '97 & '98 would like all who participated in the three conventions and made them such a success. We would also like everyone to know that no future conventions are planned at this time.

Tricon is sponsored by HMGS East, The Seven Years War Association and North Road Diagnostics.
---
After-Action Reports
---
For more information or to get on our mailing list send your name and address to the following address: Tricon, 154 Rumford St., Concord, NH 03301 or phone Byron Champlin at (603) 228-0097 or e-mail bchamplin@prodigy.net
---
The Tricon page is maintained by Allan Wright. Please feel free to e-mail me at aew@unh.edu if have anything you want to add, ask or talk about concerning this page.
---